ArdouVy
---
ArdouVy is a remote controller for the Ardour Digital Audio Workstation, that supports basic DAW operations through OSC protocol. It has been developed with recording and rehearsing needs in mind, allowing the musician(s) to control the main recording and monitoring operations without the need to be next to the computer. Please note that this is still a beta and debug release, intended just for testing and still not complete. Don't yell at me, it's still a work in progress and, much more important, I'm a musician, not a programmer :)
Main features
Transport control with jog/shuttle support;
Faders for every audio track and bus, synced with Ardour;
Record, Mute and Solo for every track;
Get it!
ArdouVy is not yet available in "App stores", so you'll need to manually download and install it (check the manual for instructions).
Once it will be stable enough I will publish it.
| Version | Release date | Changelog | File | Contents |
| --- | --- | --- | --- | --- |
| 0.7.1-r1 | 12/08/2014 | changelog | zip | APK file and full documentation |
| | | | apk | App file only (same as 0.7.1) |
| 0.7.1 | 12/08/2014 | changelog | zip | APK file and documentation |
| | | | apk | App file only |
| 0.6 | 12/07/2014 | changelog | zip | App file only |
| | | | apk | App file only |
Requirements
A recent Android device. ArdouVy has been tested on a Samsung Galaxy SIII Mini with Android 4.1.2, and should work fine on any Android device produced after 2012;
Ardour 3 is required to have a full compatible environment for ArdouVy. Ardour 2 will still work, but with a very basic support, since its OSC implementation was limited;
ArdouVy doesn't work with the new OSC interface coming with Ardour 5.
A local wireless network allowing the communication between Ardour and your Android device;
Documentation
Documentation is included since version 0.7.1, and is also available an online manual.
(Some) known bugs
Send support is still limited (this is a problem related to Ardour's OSC implementation, read the manual)
Midi tracks are not yet available
Fader values will not be remembered once the app is closed (same as limited send support above)
Transport and main volume fader sliders sometimes act weirdly when manually moving to a location/value
Ip address in settings accepts almost everything, it's up to you.
Size of widgets and buttons could be weird on devices with high density displays
Future
While I am still fixing bugs and assuring that everything works as expected, I am working on a "bridge" mode, which will allow to extend the basic OSC support that Ardour provides. This will include, for example, support for session locations (markers), send management, tempomap visualization. Since all this is session based, it will be also possible to save session settings and customizable mixer visualizations. But, still, it is a work in progress. Stay in touch!
Contact
If you want to write me about problems, suggestions and (please, not too many) complaints about ArdouVy, or just tell me the name of your cat or what you want from Santa, you can contact me at maurizio.berti on gmail. You may find me also on the #ardour channel on FreeNode.
Also, if you are an iOS developer (or, at least, know something about it) and you are interested in helping me to build an iPhone/iPad version, write me a line!
This app is free, I'll add a donation system, but if you want to support me in some way in the meantime, you can visit my (almost empty) website, listen to some of my music and give me your comments:
Also, something more on SoundCloud: https://soundcloud.com/musicamante
Thank you, and make good music! :)
Maurizio
Screenshots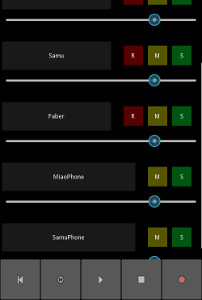 Version 0.5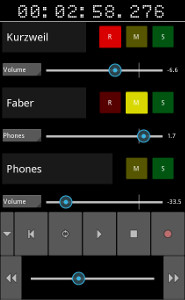 Version 0.6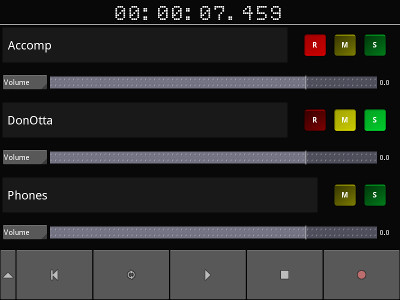 Version 0.7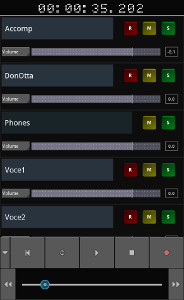 Version 0.7.1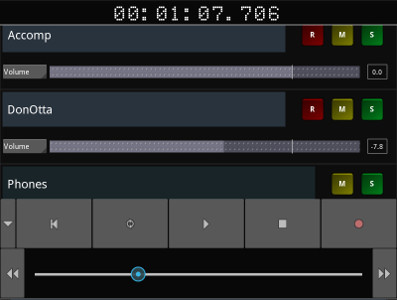 Simple transport interface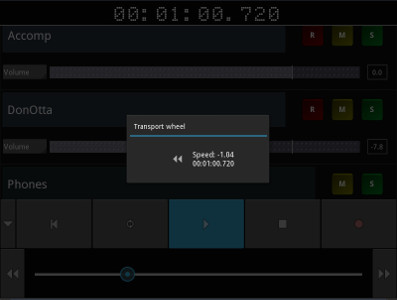 Transport "wheel" support